Western Carolina University
ENGR 365 Global Engineering and Technology (P6 ULP)
+ HIST 308 Explorations in Regional History (P3 ULP)
5/15 – 6/2, 2022
A Faculty-led Travel Course to Bulgaria in 2022
6 Credits to Ensure Your Eligibility for Financial Aid (Including Pell Program and/or Loans)
Open to all WCU students
Led by Dr. Yanjun Yan and Dr. Gael Graham
Update on 3/3/2022: Sadly we have to cancel the class given the recent development in the Eastern Europe region. We hope that all are safe and well.
The entire class will travel together and share activities to achieve the student learning outcomes of both ENGR 365 and HIST 308. ENGR 365 is P6 Category World-Culture Upper-Level Perspective course, and HIST 308 is P3 Category History Upper-Level Perspective course. By registering 6 credits in summer 2022, you are eligible for financial aid, and get 6 credits towards your graduation (talk to Dr. Yan, Dr. Graham, and/or your program director for details). The students from various programs will gain rare opportunities to practice interdisciplinary collaborations.
The two travel courses include destinations in Sofia, Plovdiv, Kazanluk, Veliko Tarnovo, Burgas, Sozopol, Nessebar, etc. across various parts of Bulgaria, and from metropolitan cities to historical towns. The class will visit companies, production plant, universities, museums, and cultural sites.
The ENGR 365 course will encourage students to experience Bulgarian culture, including its unique industry such as rose oil production, within the global context.
Join the travel course in SET at WCU
Enjoy the world as your classroom!
Meet engineers and students in Bulgaria
Enjoy the world as your classroom!
Experience Bulgarian culture
Enjoy the world as your classroom!
Advance in your career
Enjoy the world as your classroom!
Open to opportunities yet to be revealed
Enjoy the world as your classroom!
3 P6 + 3 P3 credits (both ULP) on one trip
Enjoy the world as your classroom!
Broaden your horizons
Enjoy the world as your classroom!
Join the few students who study abroad!
Enjoy the world as your classroom!
Sofia
Rila Monastery
Belogradchik Fortress
Magura Cave
Plovdiv
Veliko Tarnovo
Kazanluk
Burgas
Sozopol
The pandemic has affected the entire world in many ways, and the last ENGR 365 faculty-led trip was in summer 2019. We are hopeful that the summer 2022 trip will materialize, after three years of hiatus, if the pandemic will mostly have subsided in both the U.S. and Bulgaria by then. During our trip, we will follow all the recommended health measures to ensure everyone's safety. If the summer 2022 trip will have to be cancelled due to the pandemic (the decision is likely made before the whole payment is paid, and in that case, the deposit will be fully refunded), we will try it again in summer 2023.
Why are we so keen to bring the travel course back despite all the uncertainties and tremendous amount of planning efforts? See Dr. Yan's experience in Bulgaria in Fall 2021, and what a WCU alum '77 said about his studying-abroad experience when he commented on our Japan 2019 trip.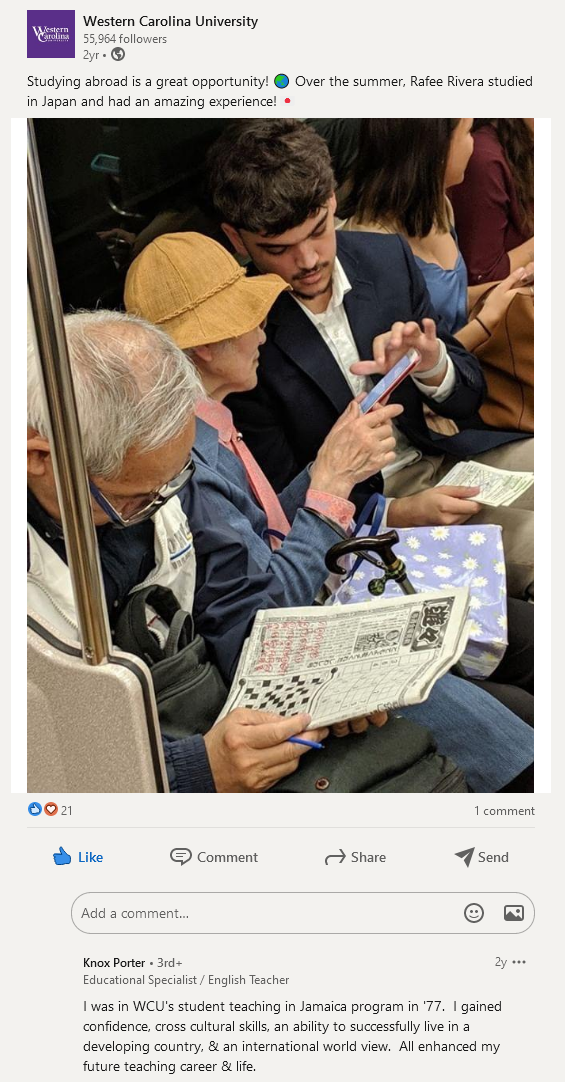 The itinerary is the latest plan representative of our intentions and is still under development. The hosts' availability in 2022 may change and we may change our schedule to accommodate their availability or even switch speakers. We may also move things around depending on the situations. Think of this as an idea of what the trip will look like, and the itinerary will be continuously updated when the plans are firmed up.
Disclaimer: The budget below is a good-faith estimate of the costs incurred during this travel courses of ENGR 365 & HIST 308, which has been approved by WCU, contingent only on the pandemic situation. The items can change (to be only lower than the estimate, never higher) as actual costs become known. We have given our best estimate, and we will do whatever we can to minimize the costs while maximizing your experience. The cost estimates are based on 7 students on the trip. If there are more students, the costs will be lower.
Note: WCU reserves the right to cancel or alter the course format or to change costs as situations require.
| | |
| --- | --- |
| Faculty Expense (two instructors' travel, stipend) | $1,560 |
| Hotels/Lodging | $660 |
| Ground Transportation (rental bus, public transportation) | $800 |
| Tickets and Admissions | $240 |
| Group Meals | $120 |
| WCU IPS Administrative Fee | $200 |
| Currency Exchange Rate Fluctuation | $80 |
| Gifts for Hosts | $20 |
| Health Insurance | $37 |
| Pay to WCU | $3,717 |
| | |
| --- | --- |
| Airfare (from AVL to SOF) | $1,200 |
| New passport, if you don't have one yet | $145 |
| COVID test before returning to the U.S. | $30 |
| Own Meals | $400 |
| Pay by oneself | $1,775 |
Note: If you qualify, these costs (both the part you pay to WCU at OneStop and the part you pay by yourself) are covered by financial aid (6 credits from WCU in summer makes you eligible for financial aid). The local meals in Bulgaria are not as costly as in the U.S., so your total actual cost can be much lower. If you have a passport already, you don't need to pay for its application again, but the passport fee will still be included in the self-responsible budget. We have estimated the self-responsible budget at the higher end to ensure your financial aid covers everything, and everyone's actual costs could vary.
Contact Mrs. Jennifer Thomas (Email her at jthomas@wcu.edu or go to her office in 104 Cordelia Camp M-F 8am-5pm) and review the financial aid procedure document for more info.
Please consider applying for the Gilman Scholarship, which has recently relaxed its trip duration requirement, so that you are eligible now. Please refer to the costs FAQ section for more details.
Frequently Asked Questions
It is imperative that you fill both Qualtrics forms (the one that goes to Dr. Yan, and the official one to WCU IPS).
Step 1: Student questionnaire to the instructor
Click the link of this brief questionnaire to fill it online. It helps Dr. Yan learn more about you and your interest in the course. Once submitted, the data will go directly to Dr. Yan.
Step 2: Student application to WCU International Programs office (IPS)
The official application form required by WCU IPS and the deposit payment portal can be found at the link below:
https://www.wcu.edu/learn/office-of-international-programs-and-services/study-abroad/faculty-led-courses/index.aspx
Look for the purple text box "Student Application, APPLY NOW" at the top-right corner of this page, and click the text box to enter the required info.
The information of this trip required on the application is provided below:
Course prefix, number, and name (e.g., HESA 600 – International Education): ENGR 365 – Global Eng. and Tech. & HIST 308 – Explorations in Regional History
Course destination (country, cities): Bulgaria: Sofia, Plovdiv, Veliko Tarnovo, Burgas, Sozopol, etc.
Leading instructors' names: Dr. Yanjun Yan and Dr. Gael Graham
Leading instructors' emails: yyan@wcu.edu; graham@wcu.edu
Travel Dates (mm/dd/yy to mm/dd/yy): 05/15/2022 to 06/02/2022
Note: In the space for your email address, use your @catamount.wcu.edu address. Also, do not leave the physician contact information section blank. If you have a regular physician, fill in their name, address, and phone. If you don't have one, put in WCU Health Services at 828-227-7640.
Dr. Yan will review the applications and invite students for a short interview. Following the interview, students will be notified about whether they are accepted to the course. It is important to submit your applications as soon as possible. Of course, if you have any questions filling out the forms, do not hesitate to contact Dr. Yan.