ENGR 365 Global Engineering and Technology, 2018, to China
The first faculty-led travel course offered by the College of Engineering and Technology at WCU
The trip happened on May 15 – May 29, 2018 in this order: Beijing → Chengdu → Shanghai → Suzhou. We arrived in PEK (Beijing) and departed from PVG (Shanghai). Planned or equivalent activities have all been carried out, and we went to a few more attractions and a show beyond the plan. The locations we visited are labeled as the landmarks on the map, powered by Google Map. Feel free to drag the yellow man's icon at the lower right corner of the map to the major landmarks to enjoy a virtual tour.
Beijing TianAnMen Square
China Datang in Beijing
JinShanling Great Wall
National Museum
Forbidden City
South Luogu Alley
The Bund in Shanghai
China Art Museum
The People's Park in Shanghai
SONGZ
General Motors in Shanghai
East China University of Science and Technology
Yu Garden
City God Temple
Suzhou Museum
The Humble Administrator's Garden
University of Electronic Science and Technology of China
Panda Reservation Center
Sanxingdui Museum
Tiger Hill
SongHeLou Restaurant
SongHeLou Restaurant2
ChengPin Bookstore
QiLiShanTang
XiBo Restaurant
Jiang'An Temple
SiChuan Opera
DuJiangYan
The 1st faculty-led course in CET at WCU!
Enjoy the world as your classroom!
Met engineers and students in China
Enjoy the world as your classroom!
Experienced Chinese culture of 5000+ years
Enjoy the world as your classroom!
Advance in your career
Enjoy the world as your classroom!
Open to opportunities yet to be revealed
Enjoy the world as your classroom!
Earn 3 credits in P6 category
Enjoy the world as your classroom!
Broaden your horizons
Enjoy the world as your classroom!
Be one of the few students who study abroad!
Enjoy the world as your classroom!
This travel course has given me a new insight into China and its unique rich culture, as well as fascinating history, and I believe anyone that takes this course will enjoy it very much so.
I am very impressed with Western Carolina University and especially Dr. Yan for organizing this trip to China, as Wilson's experience in China was incredibly special, educational, cultural, historical, and meaningful that will always stay with him forever!
China is a one-of-a-kind experience that will allow you to immerse yourself in a different way of life than your own.
Thank you so much for everything you have done, Dr. Yan: Daily updates, planning all these meetings, pictures, most of all, looking after Timothy and Wilson and showing them this side of the world.
During our visits to companies and factories, photos and/or videos were mostly prohibitied, except in the lobby. Those tours were amazing. The videos below were mostly from our casual trips to commercial streets, cultural sites, etc.
Besides the common assignments before, during, and after the trip, the students have also done an exercise of their choice to achieve their own chosen liberal studies learning outcome (SLO).
Timothy Israel did a critical comparison between the United States and China on their relationships with the Korean Peninsula, on the "Information Literacy" SLO. Please click this link to read it.
Wilson Yates did an online blog with photos/videos and commentaries about this trip, on the "Means of Expression" SLO. Please click the image below to read his blog.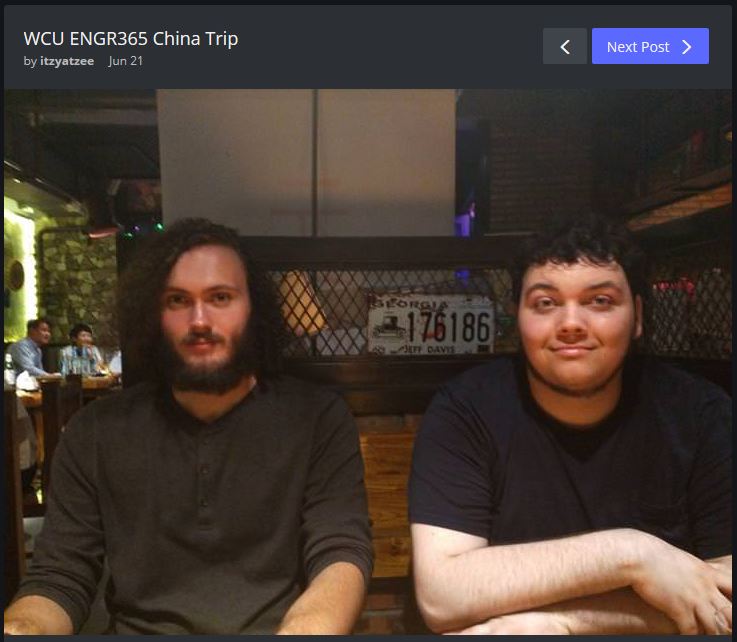 The 2018 trip was the
first
faculty-led travel course (see the news article
here
) offered by the College of Engineering and Technology at WCU, which wouldn't happen without many people's help.
Colleagues and Leadership
In no particular order, we thank
Dr. Paul Yanik, Ms. Brianna Dostie (bdostie@ciee.org) from CIEE, many colleagues in the School of Engineering and Technology, Associate Dean of CET, Dr. Chip Fergunson, and Dean of CET, Dr. Jeff Ray, for collaborating on our previous attempt and later;
Dr. Sudhir Kaul, Dr. Robert Adams, Dr. Wes Stone, Dr. Bill Yang, Dr. Jen Schiff (Chair of Liberal Studies Committee), and Dr. Kathleen Brennan (Department Head of Anthropology & Sociology), for helping to revise the proposal and approve this ENGR 365 P6 (world culture) category course;
Dr. Todd Watson, Dr. Steve Henson, Dr. Beth Wall-Bassett, Dr. Nancy Luke, Dr. Alberto Centeno Pulido, Dr. Mimi Fenton, and Dr. Erin Adams for sharing their successful experiences on faculty-led courses;
Dr. Ling LeBeau, the director of International Programs and Services, for her continuous encouragement and guidance from the very beginning and as recent as leading the Global Learning Academy that Dr. Yan participated in;
Dr. Scott Rader for sharing his course proposal that sparked Dr. Yan's desire to start this effort in the first place and his many suggestions later on;
Dr. David Tyler for sharing his experiences, materials, and website, down to every detail, whenever there is a question;
Mr. Neil Torda (torda@wcu.edu) for supporting this website's development (https://yan.wcu.edu/) with the best solution for every feature that is asked; and
Dr. Hugh Jack, School Director of Engineering and Technology and

Cass Ballenger

Distinguished Professor, for his unwavering support at every step of the course development and the financial support, when needed, without hesitation.
The students stayed in rooms with two double-beds and a private bathroom, like a regular hotel room. Well, hostels are often used by international travelers and I even found the power plugs at some hostels to be of US standard but not Chinese standard. There are many cultural elements in the deco and room arrangement, as well as conveniences such as laundary facilities and recreational areas.
We have purposely experienced nearly all kinds of transportation means while we were in China.
We used YiDao (an app like Uber), taxi, subway, and bus when we were in the cities.
We took high speed trains (around 300 km/h or 187 mph) from Beijing to Chengdu and from Shanghai to Suzhou, a flight from Chengdu to Shanghai, a maglev (

magnetic levitation

) train (up to 420 km/h or 261 mph) from PuDong Airport to Shanghai downtown, and a sleeping car train from Suzhou to Shanghai.
We took shuttles at the Panda reservation center and other tourist sites, the mountain cable car to get to the Mountain Top of the Great Wall, and the under-river tunnel cable car with music light show in Shanghai.
We missed the ferry wheel ride as it was closed when we got there, but we had fun riding against an autonomous driving system, and it was hard to force it to go off track!